Enjoy the Serene Effect of
Candles Floating in Water
Create easy arrangements with floating candles, and variety of simple decorations.
Line the bottom of a bowl with glass nuggets, pebbles, river stones or marbles, etc. Allow flowers, petals or leaves, to drift around the candles, and your floating candle centrepiece can be admired by all. D-i-y centerpieces in an instant!
The gentle motion of candles drifting on water creates a magical mood of calm celebration. Ideal for the formal tables at your wedding reception. Equally eye-catching in informal arrangements around your home.
Floating candle lights shimmer with a sense of otherworldly enchantment.
Fresh Flowers that Float in Water
Floating candles and fresh flowers create a natural sense of tranquility. The flowers listed below float successfully, and add a special floral touch to your centerpieces. Dense flower heads, with multiple layers of petals, make the best floaters, but you can get appealing results with any of the following: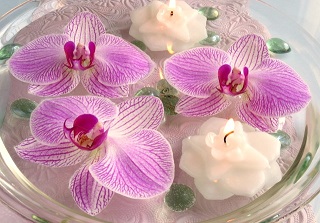 Anemones
Asters
Chrysanthemums
Daisies
Geraniums
Hibiscus
Marigolds
Orchids
Pansies
Poppies
Ranunculus
Roses
Ideas and Tips for Floating Candle Arrangements:
Click on pictures to enlarge
---
---
---
---
---
---
---
---
---
---
---
---
---
---
---
---
---
---
---
---